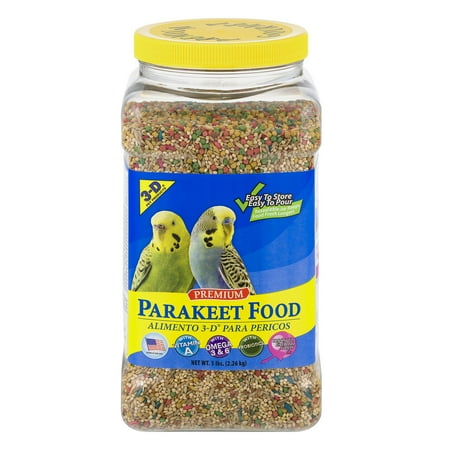 3-D® Pet Products Premium Parakeet Food. With vitamin A, Omega 3 & 6, probiotics. Easy to store and easy to pour product.
Customer Reviews
Great value
Great value for the the amount of product that you get. My birds are picky and they seem to be leaving the little shaped pieces that are not seeds but I'm not sure if all birds would do that.Artzychika
Budgies love this!
I currently have five foster/rescue budgies. I've tried a variety of high quality seed brands, but this brand does a great job of being affordable and good quality. All of the birds eat it with great gusto! I do mix this with high quality pellets, and they enjoy it.
Happy Sparrows
Before Sept. 1 (when Dove hunting season started), my yard was inundated with doves and sparrows. The sparrows were no match for getting the Wild Bird seed. So I bought a feeder for small birds and this 3-D parakeet food was enjoyed by all the small bird species. Highly recommend it, and another plus is the empty plastic jar is great for storing things (has a nice grip handle).Cherry
You may also be interested in